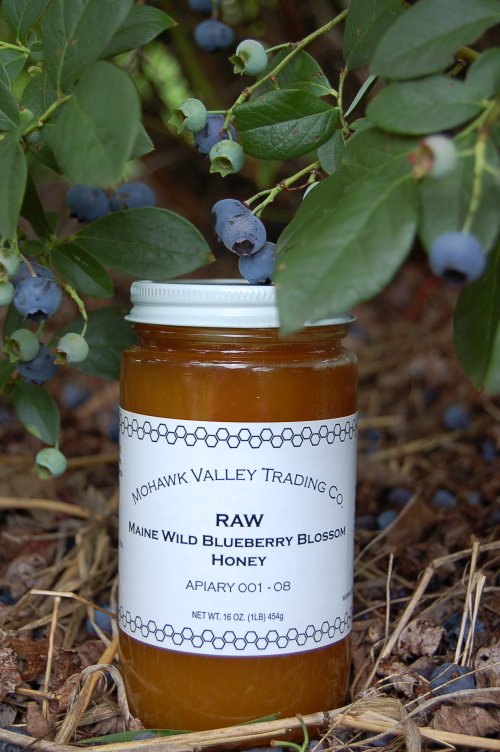 Mohawk Valley Trading Company's Raw Blueberry Blossom Honey

is unpasteurized, unfiltered, unprocessed, unheated and unblended. Therefore, all of the pollen, enzymes, propolis, vitamins, amino acids, antioxidants, minerals, and aromatics are in the same condition as they were in the hive. I believe this honey to be

the eighth wonder of the world! I never imagined that a honey could come from the hive and taste like a fruit. Blueberry blossom honey has a distinctive taste that will blow any other type of honey out of the water!

I use raw blueberry blossom honey for every recipe that involves berries including; blueberry scones, muffins and pancakes, the essence of blueberry in the batter really works great with any berry. I have also added it my bland wild blackberries that I made jam with and now my family won't eat anything else! I literally add blueberry blossom honey to everything I whip it in my butter and cream cheese for toast and bagels and I even add it to my plain Greek yogurt.
The places you can use raw blueberry honey are endless but it is not for everything. At one point I ran out of wildflower honey when I was making honey mustard for a pork dish. I substituted wildflower for blueberry blossom and that was a mistake because all I could taste was blueberry and that was just not for me. Although someone else may like it I personally do not recommend using blueberry blossom honey with meat.

Blueberries are one of the few fruit-bearing plants native to North America. Maine is the largest producers of blueberries on the continent. The biggest difference between wild blueberries (lowbush) and cultivated (highbush) blueberries is the time they need to be harvested. Highbush blueberries are harvested once a year, while lowbush blueberries are harvested once every other year. Another difference is the size of the plant. Highbush blueberries can grow to more than 6 feet in height. Lowbush blueberries reach a height of one foot or less.

Low bush blueberry blossoms have small white or pink bell-shaped flowers. During the growing season, lowbush blueberries produce the flower bud by the end of the year. The next season, these flower buds blossom and produce blueberries. Lowbush blueberries are harvested about 2 months after the flowers blossom in the spring.

The berries from a lowbush blueberry plant are smaller in size and have a more concentrated flavor than that of a highbush.Wild blueberries are also richer in antioxidants. One-cup serving of wild blueberries has more total antioxidant capacity than a serving of cranberries, strawberries, plums, raspberries and cultivated blueberries. Highbush blueberries are not part of the commercial blueberry industry in Maine.

Raw honey has been proven throughout the years to have many health benefits because; Raw honey contains all of the pollen, enzymes, propolis, vitamins, amino acids, antioxidants, minerals, and aromatics in the same condition as they were in the hive making honey a so called super food.

I highly recommend the raw blueberry blossom honey and I think you will too once you try it! Here is my favorite recipe, give it a try.


Honey Blueberry Scones

Ingredients:
1/4 cup raw blueberry blossom honey
1/4 cup nonfat plain yogurt
1 egg plus 1 egg separated
1/2 teaspoon

vanilla


2 cups all-purpose flour
2 teaspoons baking powder
1/4 teaspoon baking soda
1/4 teaspoon salt
6 Tablespoons butter, cut into pieces
1 cup fresh or frozen blueberries

Cinnamon-sugar
¼ cup white sugar
2 teaspoons

cinnamon



Directions:
In small bowl, whisk together honey, yogurt, egg, egg yolk and

vanilla

; set aside.

In separate bowl, combine flour, baking powder, baking soda and salt; mix well.

Cut in butter until mixture resembles coarse crumbs.

Add in currants. Gently mix wet ingredients into flour mixture until just combined.

Turn dough onto lightly floured surface; shape into 8-inch circle (about 1 inch thick). Cut into 8 wedges.

Place on greased baking sheet, at least 1 inch apart.

Lightly beat egg white brush on dough;

Combine cinnamon-sugar; sprinkle on brushed dough.

Bake at 375°F for 15 to 20 minutes or until golden brown.