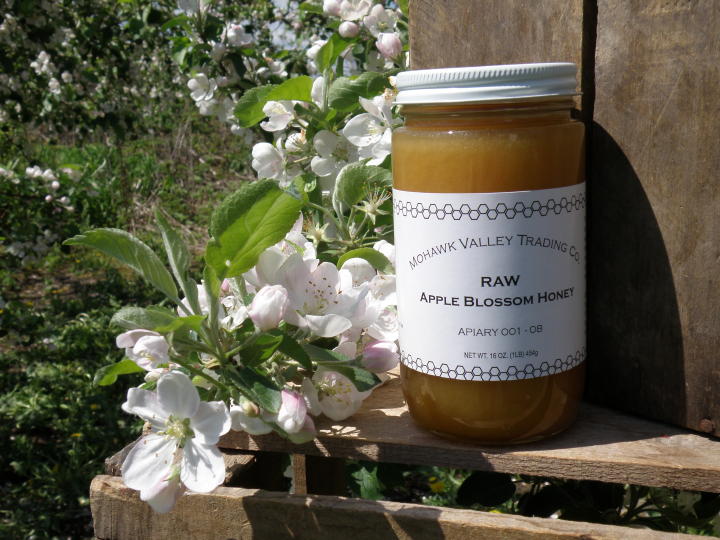 Mohawk Valley Trading Co. sells unpasteurized, unfiltered, unprocessed, unheated, un-blended raw apple blossom honey. Their raw apple blossom honey took me buy surprise as to how versatile it can be and I believe it to be one of the best raw honeys on the market today! It can be used in just about any dish you can imagine, I used it to the replace the white sugar in my apple pie filling and now I will never use white sugar in this again.

The raw apple blossom honey added a whole new dimension to the flavor of the pie and all of my guests were so impressed and could not get enough. I whip a bit of honey into my butter and use it in frosting's to cut down on the amount of sugar needed in the recipe also the butter works great or any breakfast food.

Not only is the raw apple blossom honey great for baking, but it is a fantastic addition to any savory dish calling for honey. I use it in dressings, barbeque sauces and as a simple glaze for chicken and pork dishes. As most people do I also use it on my toast, in my tea and as a topping for my pancakes and French toast as a substitute for maple syrup.

Raw honey has been proven throughout the years to have many health benefits because; Raw honey contains all of the pollen, live enzymes, propolis, vitamins, amino acids, antioxidants, minerals, and aromatics in the same condition as they were in the hive making honey a so called super food.

You may be wondering how the flavor of an apple is transformed from floral pollen into eatable honey; It has to do with the wide variety of apple blossoms that the bees feed on that gives Raw Apple Blossom Honey its unique and extraordinary flavor.
Not far from the Mohawk Valley Trading Company headquarters, on a south facing slope of the Mohawk Valley, there is a little known boutique apple orchard. The owner, in addition to growing a wide variety of officially recognized apples, has developed a few species of apples that exist nowhere else, except in his orchard.
At the beginning of apple blossom season, they set up an apiary in his orchard.

This Apple Blossom Honey is derived from the nectar of Fuji, Wolf River, Crispen, Sweet Sixteen, Pound Sweet, Granny Smith, Winesap, Fortune, Cortland, Empire, Ginger Gold, Macoun, Spigold, Honeycrisp, Jonagold, Golden Delicious, Acey Mac, and other apple blossoms that the bees will collect from.

The uniqueness of the apiary's surroundings is why when you taste Mohawk Valley Trading Company's Raw Apple Blossom Honey you will never taste another like it, because there is no other place like the Mohawk Valley on earth.


See for yourself; try out this wonderful recipe to test this marvelous product.

Raw Apple Blossom Honey Cake


Ingredients
2⁄3; cup raw apple blossom honey
2 eggs
¼ cup melted butter
¼ cup apple juice
1 tablespoon sliced almonds
½ cup sugar
1 ½ cups flour, less 1 tbsp
3 tablespoons unsweetened cocoa powder
1 teaspoon baking powder
½ teaspoon baking soda
½ teaspoon ground cinnamon
½ teaspoon ground ginger
1/8 teaspoon nutmeg


Directions:

Prepare an 8 X 4 loaf pan with shortening and flour. Line the bottom of the pan with greased parchment paper.
Whisk flour all other dry ingredients.
Beat eggs in a separate bowl; add sugar and honey, beat until smooth and light in color. Gradually add butter until well blended.
Stir the egg mixture into the flour mixture alternating with apple juice.
Pour the batter into the prepared pan, and top with sliced almonds.
Bake 50 minutes in a 325 preheated oven until knife inserted comes out clean.
Remove from oven let set several minutes, the flip onto wire rack and finish cooling.